Welcome to the official Terry Dodson website
The official website of artist Terry Dodson, containing art from Uncanny X-Men, Wonder Woman, Coraline, Harley Quinn and more!
ADVENTURE RETURNS
OUT NOW
ADVENTUREMAN RETURNS!
ISSUE 5!
"TO THE GREATEST UNKNOWN"
As New York City teeters on the brink of a strange armageddon, Claire tries the Adventureman mantle on for size just in time to face the monstrous evil that vanquished her predecessor— only he didn't have a family like hers.
OUT NOW
DIAMOND CODE: JUL210036
ISSUE 6!
"A FAIRYTALE OF NEW YORK," Part One
Claire Connell has become the new Adventureman, thus awakening a long-lost ally and rousing some long-gone ghosts from the Adventure Age that have unfinished business...
OUT NOW
DIAMOND CODE: AUG210219
ISSUE 7!
"GHOST LIGHTS"
Snow keeps falling, old ghosts keep calling, and Claire Connell discovers a giant secret buried deep underneath Manhattan.
OUT NOW
Diamond CODE: SEP210156
ISSUE 8!
"ADVENTUREVENTION!" Claire's sisters step up, the long-buried history of the Ghost Gang gets revealed, and the new Crossdraw makes a date with the new Adventureman!
SHIPS MARCH 2
Diamond CODE: OCT210123 https://imagecomics.com/comics/series/adventure-man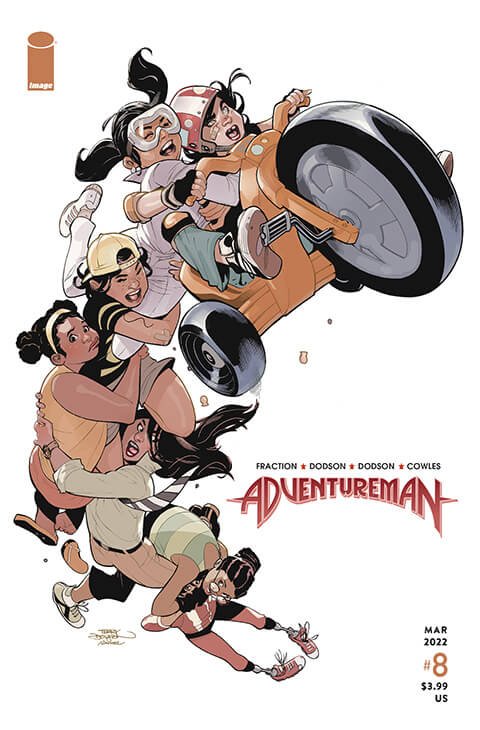 ADVENTUREMAN: VOL 1
THE CATACLYSMIC ADVENTURE SERIES IN HARDCOVER!
A CATACLYSMIC ADVENTURE
DECADES IN THE MAKING!
WHERE HIS STORY ENDED...HER STORY BEGINS!
Everyone knows the story of how ADVENTUREMAN, the greatest pulp hero of all time, ended in a heartbreaking CLIFFHANGER with our hero facing his very execution...now, learn the startling truth about how, 80 years after his seeming demise, single mother Claire and her Adventurefan son Tommy light the spark of RESURRECTION! Can these inheritors of the Adventureman legacy rise up to face down the evil that bested the original?
This 9.5" x 12.5" 168 Page Deluxe Hardcover collects Adventureman 1-4, all color corrected for this volume, plus a 16 page bonus section of sketches, with a dedicated look at how the story came about and the creation of all the characters.
This sense-obliterating, earth-shaking, imagination-quaking adventure that spans generations comes to you from MATT FRACTION (SEX CRIMINALS, Hawkeye) and TERRY & RACHEL DODSON!!!
SHIPS DECEMBER 9th, from IMAGE COMICS!
DIAMOND CODE: AUG200064
Available at your Local Comic Retailer, Comixology and all fine book stores!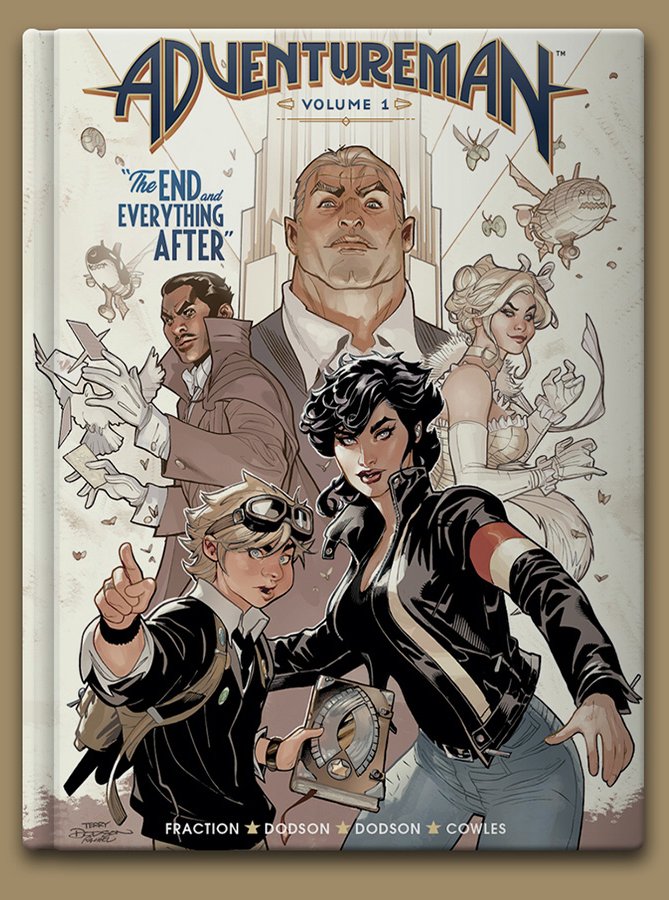 X-MEN FANTASTIC FOUR
A 4 ISSUE MINI SERIES SHIPPING IN FEBRUARY FROM MARVEL COMICS
FANTASTIC ART!
TERRY AND RACHEL ARE DRAWING THE MINISERIES WRITTEN BY CHIP ZDARSKY AND COLORED BY LAURA MARTIN. SHIPPING NOW FROM MARVEL COMICS!